Amari SPICE Penang
حقيقة سريع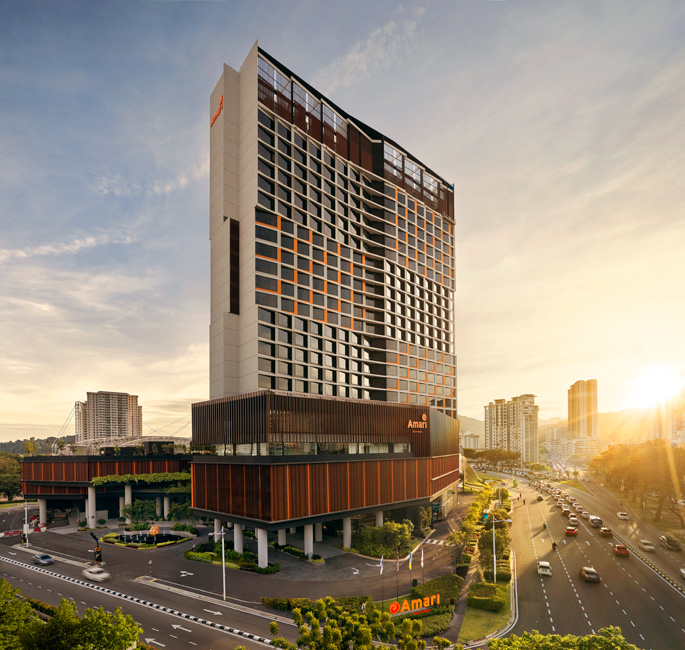 محلي
Amari SPICE Penang is a leading business convention hotel located in the heart of Penang's Central Business District in Bayan Lepas. Stand-out in appearance and in service, Amari is a beacon for business travellers, just 5-kilometres from Penang International Airport and directly connected to the outstanding SPICE Convention Centre, a world first hybrid-power venue.
ما يوجد في الجوار
Bayan Lepas Free Industrial Zone 4.5 كم 10 دقائق
Queensbay Mall 4 كم 10 دقائق
Penang War Museum 7 كم 15 دقائق
Kek Lok Si Temple 11 كم 20 دقائق
Penang Hill 14 كم 25 دقائق
Georgetown UNESCO World Heritage City 17 كم 20 دقائق
Penang Botanic Gardens (Waterfall Gardens) 16 كم 25 دقائق
Penang Floating Mosque 22 كم 40 دقائق
Batu Ferringhi Beach 30 كم 45 دقائق
Entopia by Penang Butterfly Farm 31 كم 50 دقائق
Penang National Park 33 كم 55 دقائق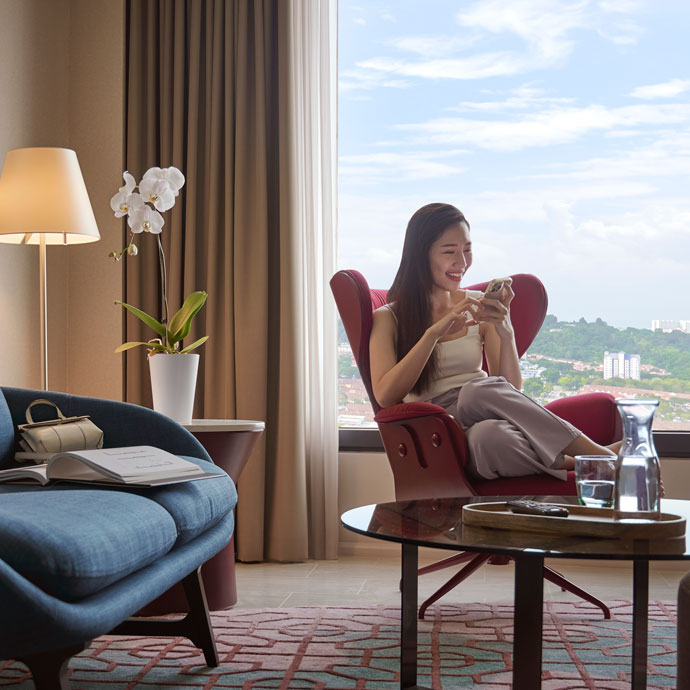 البقاء
We have over 450 rooms to choose from at the hotel, ranging from Deluxe rooms designed for fast paced working travellers to spacious one-bedroom suites that boast panoramic views of the city below. Guests staying in the Executive Floors and Suites also can enjoy exclusive access to the Executive Lounge with its many club benefits.
غرف
غرفة ديلوكس 29 متر Ideal for 2 adults and 1 child
Premier 29 متر Ideal for 2 adults and 1 child
Executive 29 متر Ideal for 2 adults and 1 child
Executive Deluxe 34 sqm. مثالية لشخصين بالغين وطفل واحد أو 3 أشخاص بالغين
الأجنحة
One Bedroom Suite 55 sqm. مثالية لشخصين بالغين وطفل واحد أو 3 أشخاص بالغين
Amari Suite 143 sqm. Ideal for 2 adults and 2 children or 3 adults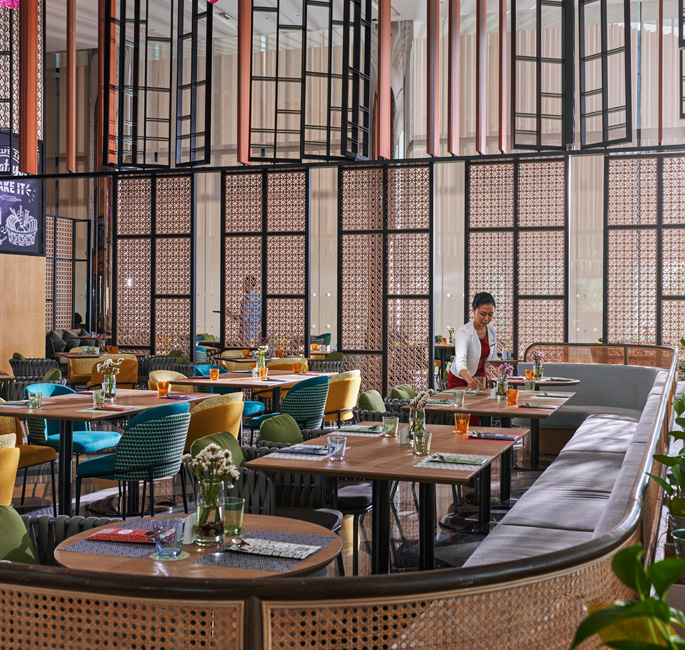 تناول الطعام
Explore the flavours of the locale or sample fresh, hand-crafted international delights at any one of our vibrant restaurants and bars, or sample them all and find your favourite.
أمايا فوود جاليري:
Our signature all-day dining restaurant with a market-inspired feel, garden green alfresco bar terrace and secret wine cellar.
D' Observatory Sky Bar:
Penang's best rooftop bars, complete with 1920s chic decor, locally-inspired cocktails and an excitingly moorish tapas delights.
Cascade:
Tea, coffee and freshly baked pastries by day, curated bar-lounge by night. Cosy any time of the day.
Aqua Bar:
Relax poolside with a refreshing post-swim cocktail, cold-pressed juice or energising light bite before the sunset happy hour begins.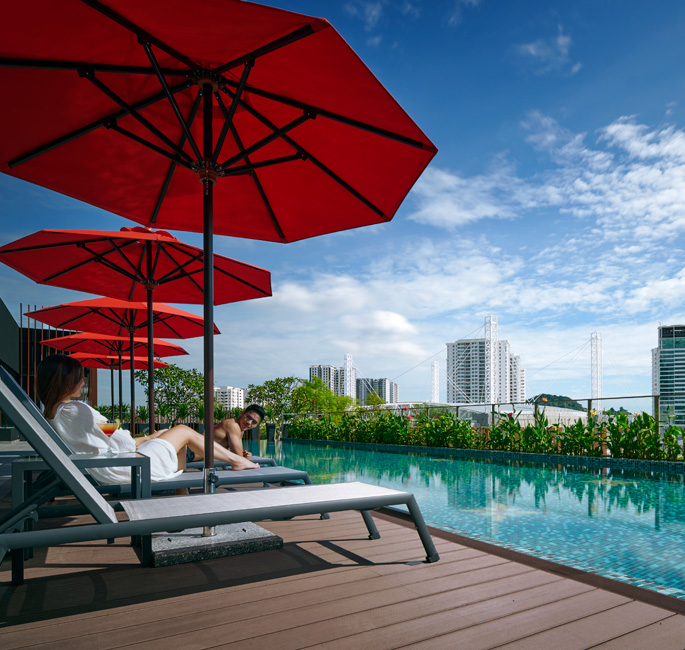 الترفيه
Find escape from your busy schedule and indulge in soothing contemporary spa treatments or visit the FIT Centre to maintain your momentum on our state-of-the-art cardiovascular and strength training machines.
Executive Lounge
حمامات السباحة
Jogging track
مركز فيت للياقة البدنية
منتجع سبا بريز الصحي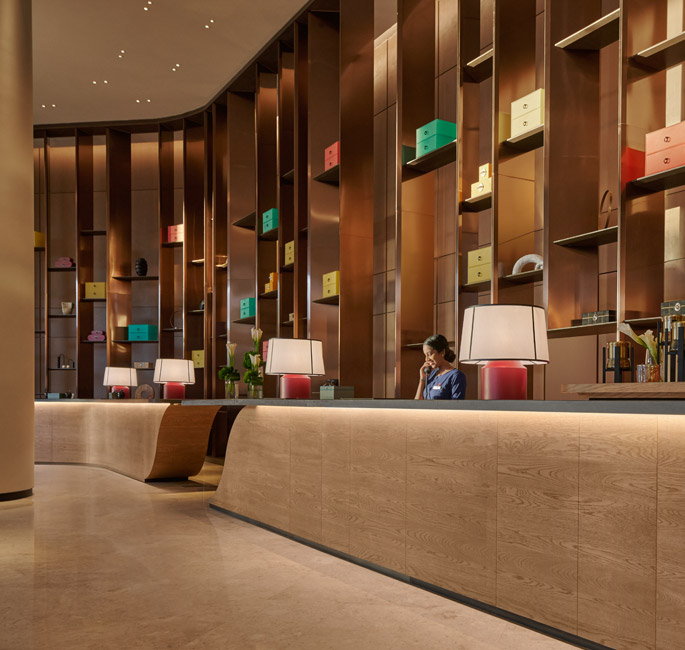 خدمات
Meeting rooms that suit any purpose, dedicated event planning, Wi-Fi connections and direct access to the SPICE Convention Centre means there's more than enough for any business traveller heading to Penang.
خدمة واي فاي مجانية
خدمات الغسيل والتنظيف الجاف (تُطبّق رسوم إضافية)
صرف العملات
مرافق مخصصة للكراسي المتحركة
مكتب استقبال يفتح أبوابه على مدار الساعة
فريق كونسيرج متعدد اللغات
Airport transfer (on-request, extra charges apply)
موقف سيارات آمن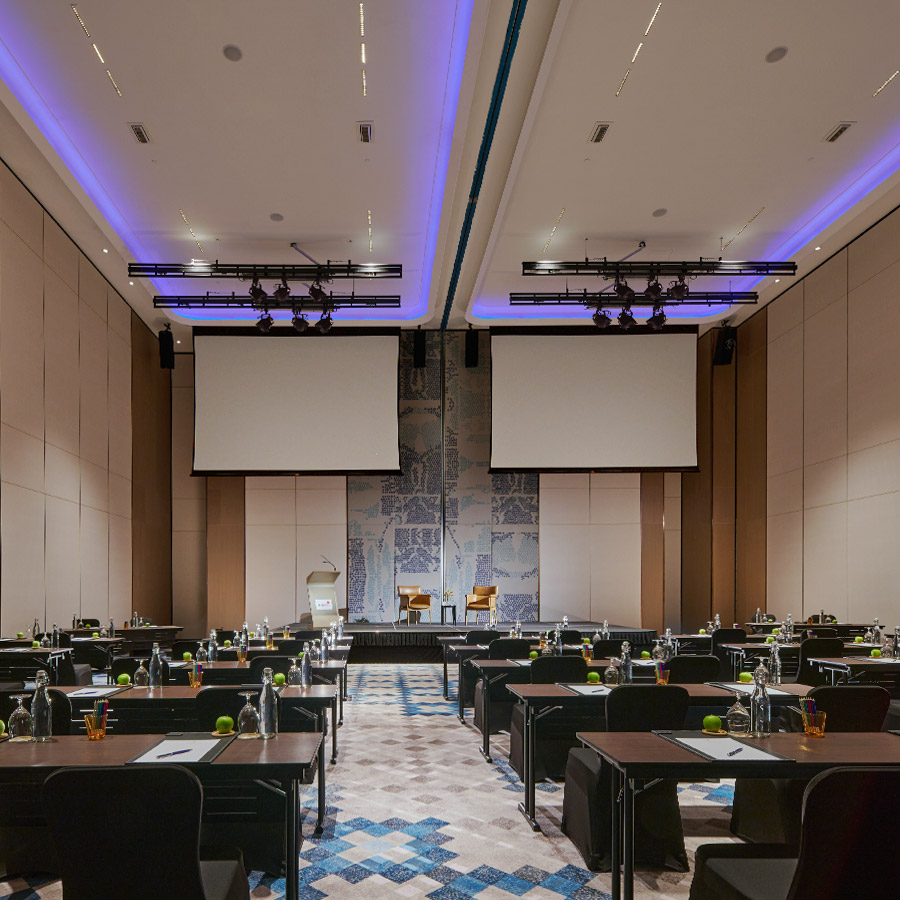 الاجتماعات
Amari SPICE Penang is the perfect setting for any meeting or event. Intimate meeting rooms to medium-sized events in our stunning pillarless ballrooms, ample parking for event guests to direct access to the SPICE Arena; there's nothing off limits for our team of specialised event planners.
Jadeite

266 متر

250 شخصًا

Jadeite 1

133 متر

125 شخصًا

Jadeite 2

133 متر

125 شخصًا

Citrine

84 متر

85 شخصًا

Peridot 1

35 متر

10 شخصًا

Peridot 2

34 متر

10 شخصًا

Peridot 3

47 متر

60 شخصًا

Peridot 4

43 متر

38 شخصًا
Amari SPICE Penang
2 Persiaran Mahsuri, Bayan Lepas, Pulau Pinang 11900 Malaysia
اتصل بنا
هاتف: +604 683 1188
تحقيق
Hotel policies
Bookings: All room rates and services are subject to a 6% government tax in compliance with local regulations. A 50% surcharge will be applied to airport transfers scheduled between 23:00 and 7:00.
Check-in & Check-Out: To ensure a smooth check-in process, guests are required to present a valid government-issued ID of the primary guest and booking details, including the confirmation letter, or booking number, at the reception desk.
Children: To apply correct charges, the date of birth of any traveling child is required during the reservation process.
استكشف المزيد
وسائل الراحة
خدمة واي فاي مجانية
خدمات الغسيل والتنظيف الجاف (تُطبّق رسوم إضافية)
صرف العملات
بطاقات الائتمان
قد يُطلب منك تقديم بطاقة الائتمان المستخدمة لتأكيد الحجز عند تسجيل الوصول.
visa master americanexpress